© Kapok Tree Diplomacy. April 2012. All rights reserved. Jeff Dwiggins
 FREE CONTENT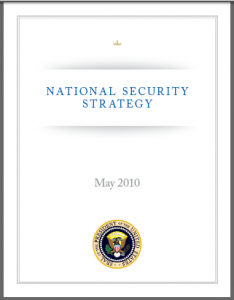 I think a good starting place to assess executive department policy integration begins with the strategy formulation phase for what types of policies the executive is going to endorse and promote. For the purposes of this post, by executive I mean 'the President of the United States.' Ultimately the strategic planning system identifies the ends, ways and means of a sound and compelling strategy that "integrates the processes and documents" of the people working under him and the "people and organizations with which he directly coordinates" (Meinhart 2006, 304, 311). As a scholar, I would want to know how the executive came up with the policy, what the goals were, and what the strategy was to advance the policy.
            Yarger adds that the overarching strategy must be proactive and anticipatory, resource-balanced, driven by political purposes, hierarchical, comprehensive and derived from "thorough analysis and knowledge of the strategic situation and environment" (2006, 107-111). He describes the ends, ways and means as national objectives, strategic concepts or courses of action and resources (of national power) respectively, and advocates that good policy must minimize risk for effective integration and execution (111).
            If we're talking about national security policy specifically, one could say that the effective integration of national security policy would begin with the development and publication of the National Security Strategy (NSS) where many of these ends, ways and means are described in detail. Admiral Mullen, Chairman of the Joint Chiefs of Staff, is a key individual in the integration of those NSS priorities in terms of the strategic guidance he annually provides to the military. Admiral Mullen asserts that military policy, which begins with the Commander in Chief, must be linked to our vital interests, be properly balanced with global strategic risks, be resourced sufficiently, and "support rather than lead foreign policy" (2009).
           In citing the Weinberger Doctrine, Sarkesian, Willams and Cimbala add that military policy integration must have total support from the top and that "U.S. forces must be given clearly defined political and military objectives, and the forces large enough to be able to achieve these objectives" (2008, 124). Sarkesian, Williams and Cimbala add that for military policy integration to be effective, political leaders must focus on improving the civil-military professional relationship and help ease tensions and prevent misunderstanding between the media and the military (138-9).
           The U.S. Department of Homeland Security (DHS) Strategic Plan for Fiscal Years 2008-2013 and the Department of State and U.S. Agency for International Development (USAID) Strategic Plan for Fiscal Years 2007 to 2012 are great examples of how executive policies are effectively integrated into key federal departments. The DHS plan carefully aligns its vision, mission, core values and guiding principles with similar concepts laid out in the NSS. The vision for "A secure America, a confident public, and a strong and resilient society and economy" (2008, 3), for example, resonate well with the Obama NSS's stated goal of "a commitment to renew our economy" (2009, 2).
           The DHS goes much farther than mission and vision statements, however, providing a comprehensive list of goals (ends), objectives (ways) and programs (means) with which to advance the president's policies (26). The goal of "Protecting our Nation from Dangerous People" with strategic objectives to "Achieve Effective Control of Our Borders" and "Strengthen Screening of Travelers and Workers" are specific examples of the qualitative measurements of effective policy integration that align with NSS goals and objectives one can find in the DHS document (6,7).
           DHS also measures their success through quantitative performance measurements that identify specific targets and results for each objective. For example, DHS seeks to achieve a target of 87.5% green progress scores from the Office of Management and Budget regarding the President's Management Agenda (25). Actual results are summarized and put into a DHS Quarterly Performance Report to hold the agency accountable for their targets and trends (27). The president in theory could regularly review these reports to see how well his policies are being executed and make adjustments as necessary.
           The State Department (SD) and USAID take a somewhat different tack on how they integrate presidential policies and priorities into their departments. The SD & USAID document advances seven strategic goals (SGs): (1) Achieving peace and security; (2) Governing Justly and Democratically; (3) Investing in People; (4) Promoting Economic Growth and Prosperity; (5) Providing Humanitarian Assistance; (6) Promoting International Understanding; and (7) Strengthening Consular and Management Capabilities (2007, 13).  These SGs are then linked to "National Security Strategy Tasks" (NSST) (2007, 13). For example, the NSST of "Champion Aspirations for Human Dignity" is linked to SG.2 – Governing Justly and Democratically, SG.5 – Providing Humanitarian Assistance, and SG.6 – Promoting International Understanding (13).
           While this methodology directly ties department goals to executive policy integration, I would argues that the effectiveness of the policy integration is a little more difficult to measure on State Dept. and USAID objectives that don't lend themselves as well to quantitative analysis. How do you really measure the "promotion of international understanding?" One way the State Dept. and USAID do this is by adding a section to their report on "U.S. Government Partners and Cross-Cutting Programs" that will help them with coordinating and executing policy. For example on SG.6, Promoting International Understanding, the strategic plan lists Department of Defense and DHS law enforcement activities as a helpful partner and program (37). So a scholar could look at how well the executive department partners with other agencies and programs to promote and integrate his policies.
           Economic goals are one area that would seem to be more conducive to quantitative performance measurement as well as measuring effective executive policy integration. The CRS Report by Tarnof and Nowels does a good job of explaining how U.S. goals for foreign aid such as bilateral development assistance, aid to support U.S. political objectives, humanitarian assistance, multilateral assistance and military assistance can directly tie into the President's NSS objectives while promoting U.S. interests and values (2005, 2-14).
           Developing countries who want to pursue industrial and agricultural development strategies basically have three choices: (1) Private funding, (2) international economic institutions like the IMF and World Bank (WB), or (3) alternative strategies such as the bilateral deals China signs with African nations outside of the international economic institutions. 
           The Millenium Challenge Account (MCA), a potential fourth option as detailed by Sperling and Hart, is different in the sense that it is a unilateral and "independent" option in terms of its existence as a U.S. foreign aid agency (2003). It is also different in the spirit of its requirements of good governance, economic freedom, and investments in citizens. This is a great tool the president has to advance his foreign policy, diplomacy, development and national security policies.  
           The MCC's quantitative focus on tracking inflation, trade policy, fiscal policy, regulatory quality, corruption, rule of law, and good governance is a step in the right direction to make sure that development dollars produce development results. The MCC can easily be tied to specific economic policies within the NSS, for example, to effectively promote the President's desire for the U.S. to effectively "shape the international order" through its leadership and capacity building expertise in these areas (2009 NSS).
           In summary, the scholar must look at the ends, ways and means that make up the core of the executive's strategy and policies and then qualitatively and quantitatively measure how well the department in question is performing towards integrating those policies and achieving its performance objectives and targets. The scholar can look at departmental progress reports as well as independent sources of data measurement and publication provided by other institutions like the Congressional Budget Office (CBO), the Office of Management and Budget (OMB), think tanks like Brookings or Carnegie Endowment for Peace, the United Nations (UN) or one of its many off-shoots like the UN High Commissioner for Refugees, various media outlets, open source publications, international country statistics, NGOs, and other international organizations to aggregate the data, measure it and assess it.
           Another way the president integrates his policies is through appointments with Senate confirmation. The president has hundreds of department, cabinet, military and judicial appointments (http://www.whitehouse.gov/briefing-room/nominations-and-appointments). Janet Napolitano (DHS) and Hillary Clinton (State) are two such appointments for key departments mentioned previously in this post. A scholar can review the executive policy integration within DHS and State, for example, to see how closely aligned these policies are, which was done to some extent earlier in the post.
           If the president is re-elected for a second term, usually his policies have been effectively integrated and they are at least somewhat popular or embraced by the American people. If alliances are being strengthened and expanded, again, something is working correctly. If there is party unity and strong congressional support for the majority of the president's agenda, then again, the policies are being effectively integrated, but not just integrated, followed, coordinated well and implemented. If the American people are prospering and safer, then the policies weren't just integrated effectively, there's a good chance they were also good policies.
The posts, views and opinions expressed on this site are completely my own and do not represent the views or opinions of the Department of Defense (DoD), the Department of the Navy (DON) or any of the Armed Forces.
Works Cited
Meinhart, Richard M. "National Military Strategies 1990 to 2005." Chap. Chapter 22, In U.S. Army War College Guide to National Security and Strategy, edited by Jr J. Boone Bartholomees. Second ed., 303-312, U.S. Army War College, Department of National Security and Strategy, June 2006.
Mullen, Admiral M. G. "CJCS Guidance for 2009-2010." Chairman of the Joint Chiefs of Staff. http://www.jcs.mil/content/files/2009-12/122109083003_CJCS_Guidance_for_2009-2010.pdf (accessed April 17, 2012).
Obama, President B. H. "National Security Strategy." The White House. http://www.whitehouse.gov/sites/default/files/rss_viewer/national_security_strategy.pdf (accessed April 17, 2012).
Sarkesian, Sam, John Allen Williams, and Stephen J. Cimbala. "The Military Establishment (Chap 6) & Civil-Military Relations (Chap. 7)." Chap. Chapters 6-7, In U.S. National Security: Policymakers, Processes & Politics. Fourth ed., Boulder, CO: Lynne Rienner Publishers, 2008.
Sperling, Gene and Tom Hart. A Better Way to Fight Global Poverty: Broadening the Millennium Challenge Account. http://www.foreignaffairs.com/articles/58807/gene-sperling-and-tom-hart/a-better-way-to-fight-global-poverty-broadening-the-millennium-c ed. Vol. 82.
Tarnoff, Curt and Larry Nowels. Foreign Aid: An Introductory Overview of U.S. Programs and Policy. http://www.fas.org/sgp/crs/row/98-916.pdf ed. Washington, DC: Congressional Research Service | Library of Congress.
The U.S. Department of State and U.S. Agency for International Development (USAID). U.S. Department of State and U.S. Agency for International Development – Strategic Plan, FY 2007-2012. http://www.state.gov/documents/organization/86291.pdf ed. Washington, DC: U.S. Department of State, (accessed April 17, 2012).
U.S. Department of Homeland Security. "One Team, One Mission, Securing our Homeland: U.S. Department of Homeland Security Strategic Plan, Fiscal Years 2008-2013." U.S. Department of Homeland Security. http://www.fdle.state.fl.us/Content/getdoc/67e98737-3bf6-4cff-bda1-78ee2061b2c3/DHSStrategicPlan2008-2013.aspx (accessed April 17, 2012).
Yarger, Harry R. "Toward a Theory of Strategy: Art Lykke and the Army War College Strategy Model." Chap. Chapter 8, In U.S. Army War College Guide to National Security and Strategy, edited by Jr J. Boone Bartholomees. Second ed., U.S. Army War College, Department of National Security and Strategy, June 2006.